Interprofessional Collaboration Scholars Program
PIPE is excited to announce the launch of the UCSF Interprofessional Collaboration Scholars (IPCS) program! This is an opportunity for UCSF health professions students to engage in further interprofessional collaboration activities and scholarship, through small group work, simulation, projects, scholarship, and interprofessional clinical immersion experiences.  To learn more, visit the IPCS CLE website. Please email Angel Kuo ([email protected]) for more information.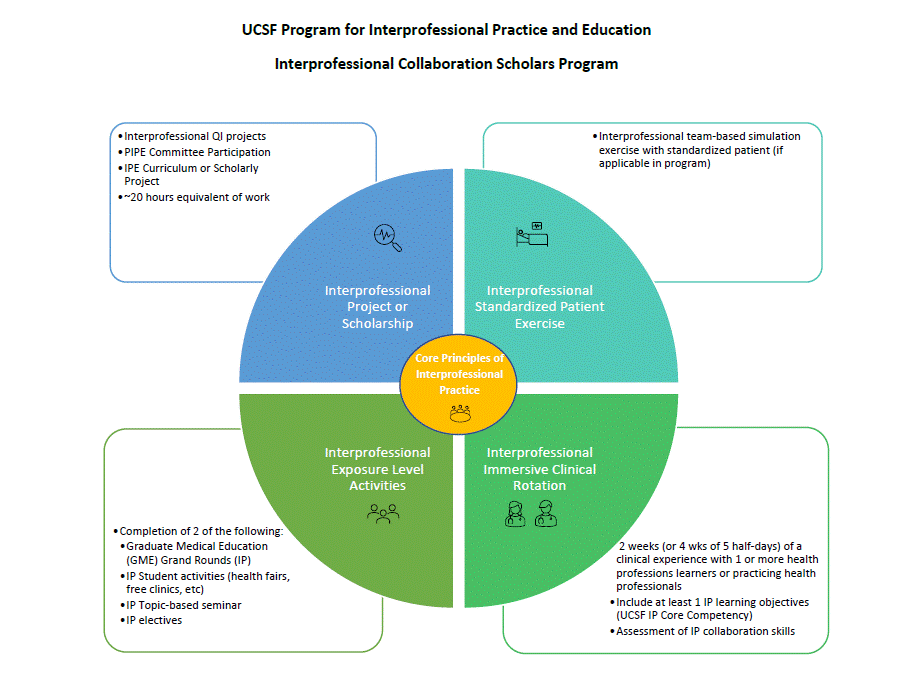 Elective & Clinical Opportunities
Numerous elective courses, clinical experiences and volunteer opportunities exist at UCSF to allow students to tailor their interprofessional education experience to their interests and professional goals.
If you would like to have your course listed in the UCSF course catalog with an IPE designation please click here for more information.
If you would like to get involved with any of these elective or clinical opportunities, please click on each link for more information.
Please let us know if you have an elective or volunteer opportunity to add to this list!
MED 170.03 - Family Planning and Reproductive Choices
Fall 2023 (Open to students in Medicine, Pharmacy, and Nursing)
Course Description: This is an 8-session elective series with one additional workshop. This elective features guest speakers brought together by a desire to educate students about reproductive choices and reproductive justice! Our organization believes that all people should have access to health services that allow them to lead safe, healthy lives including all aspects of sexual and reproductive health consistent with their own personal and cultural values. 
Schedule: Starts 10/05/23, Meets weekly on Thursdays 12:10-1 PM at UCSF Parnassus Campus, CS 1111
Contacts: [email protected] (MS2 Coordinator), [email protected] (MS2 Coordinator), [email protected] (MS2 Coordinator), [email protected] (MS2 Coordinator), Aparna.Manocha (JMP Coordinator)
MED 170.01B Health Policy Elective
(https://coursecatalog.ucsf.edu/course/732)
Course faculty contact: Beth Griffiths ([email protected])
Course is offered annually in the Fall
Brief description:
Students will explore key topics in health policy, which vary from year to year, but often include the Affordable Care Act, Medicaid, Medicare, single payer, the health workforce, health information technology, and how to influence the policymaking process. Lectures and discussions are given by UCSF faculty as well as guest speakers, who often include policymakers, researchers, health systems leaders, clinicians, and/or community organizers.
Clinical Geriatrics
This elective explores geriatric medicine and how multiple disciplines work within a skilled nursing home. Students will work on a mini-interprofessional team, with pharmacy and physical therapy students, learning about common geriatric conditions and caring for geriatric patients at the VA Community Living Center (CLC).
Education in Patient Aligned Care Teams (EdPACT)
The program aims to change the culture of healthcare education by teaching internal medicine residents and nurse practitioner students to work together as they care for a panel of patients. Sixteen medical residents and eight nurse practitioner students will work in teams, supervised by physicians and nurse practitioners. Trainees from pharmacy, social work, nutrition, mental health and podiatry will also have opportunities to participate in the program.
Community Health Clinic
The UCSF Homeless Clinic is comprised of UCSF medical students, nursing students, pharmacy students, medical residents, and physicians. The mission is to provide sensitive, accessible, and high-quality health care and create an environment in which students, preceptors, and patients may teach and learn from one another at the same time.
Mabuhay Health Center
The Mabuhay Health Center (MHC) is a free UCSF student-run community health clinic that operates in San Francisco's South of Market (SoMa) district. MHC runs monthly clinics at the Bayanihan Community Center, where student volunteers (undergraduate, post-baccalaureate, graduate, dental, medical, nursing, and pharmacy students) strive to deliver culturally sensitive health care under the supervision of faculty from UC San Francisco.
Words on the Wards
Word on the Wards (WoW) is an interprofessional health coaching program and elective that trains first- and second-year trainees from the schools of pharmacy, nursing, medicine, physical therapy to work together to provide health coaching to inpatients at Zuckerberg San Francisco General Hospital. Through patient education, this program aims to address issues of low health literacy and social isolation that serve as challenges for patients, while empowering them to learn more and be proactive about their health. Students learn about and practice the following: health coaching and teaching patients, working with patients from underserved backgrounds in a safety net hospital, and interacting with fellow health professional students and physicians.
At UCSF, organizations, student groups and clubs are referred to as "RCOs" (Registered Clubs & Organizations). RCOs attract students based on culture, background, skills or the desire to learn or serve in a specific way.
The Mabuhay Health Center
The Mabuhay Health Center (MHC) is a University of California, San Francisco (UCSF) student-run free community health clinic targeting underserved Filipino-American residents of San Francisco's South of Market (SOMA) District.
Word on the Wards                                                                                                                                                                                                                          Word Word on the Wards (WoW) is an interdisciplinary program created by students for students from UCSF's School of Pharmacy, Nursing, Medicine, Physical Therapy and City College of San Francisco's Community Health Worker Program to serve as health coaches for patients hospitalized at Zuckerberg San Francisco General Hospital.
HealthLink
Our mentors are UCSF graduate students from all five health professional schools: Nursing, Pharmacy, Dentistry, Physical Therapy, and Medicine. Each mentor is paired with a single high school student. During Saturday sessions, mentors accompany their mentees throughout the day's activities and workshops.
For more interprofessional RCOs at UCSF, please visit the Organization Directory at OrgSync at UCSF.