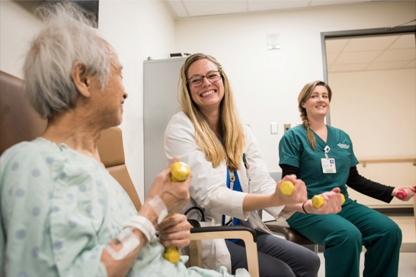 Started in 2021 after a year of planning, the UCSF Department of Emergency Medicine has created a comprehensive and age-friendly emergency department (AFED) pathway at Parnassus, as increasing numbers of older adults are seeking medical care. This is part of a national movement supported by the American College of Emergency Physicians (ACEP) geriatric emergency department accreditation (GEDA) program.
AFED's robust interprofessional team involves many members: emergency medicine providers, advance practice providers (nurse practitioner or physician assistant), pharmacists, nurses, chaplain services, geriatricians, physical and occupational therapists, social workers, case managers, caregivers, and volunteers. "Our AFED works because the culture at UCSF is so collaborative and the idea of healthy aging is a focus across the hospital enterprise," said Nida Degesys, MD from the Department of Emergency Medicine (DEM).
Degesys is the medical director of the AFED and is assisted by James Hardy, MD and Mitchell Erickson, ACNP from DEM along with Todd James, MD, and Stephanie Rogers, MD from the Division of Geriatrics. The AFED is accredited at the highest ACEP GED level at Level 1, the first in Northern California and one of only 19 such EDs in the nation. The Parnassus ED has 47 beds and 10 observation unit beds and receives 36,0000 annual visits. Of these visits, 32% of patients are over age 65, much higher than the national average of about 15%. Fifty-one percent of those patients over age 65 are admitted to the hospital at UCSF.
However, it's important to note that EDs are not just for hospital admissions. The AFED pathway is a parallel one to the usual ED pathway; its care model, following ACEP standards, focuses on those at risk for cognitive dysfunction, unrecognized or pre-existing dementia, or changes in functional status. Patients undergo a modified, comprehensive geriatric assessment based on twenty policies, "a sort of global look," according to James. This assessment depends on the coordinated work of multiple health professionals. The emphasis is on a patient's quality of life and function, and multi-component, multi-professional approaches that lead to better care outcomes whether the patient is admitted or discharged to home.  
"We're focused on geriatric syndromes," said James. "Geriatric syndromes require a different approach from typical medical care. These syndromes are often multifactorial and may never be entirely resolved but may well be improved. It is rare that there will be one easy answer or one pill for treatment. Moving forward on geriatric syndromes really depends on team approaches."
Examples of syndromes include gait instability, falling, urinary incontinence, constipation, cognitive impairment, mood disorders, medication cascades and more. To address syndromes, one must review medications, diagnoses, symptom burden, environmental factors, caregiver support, and more to find strategies that focus on what is important for the patient.
James noted, "Indeed, UCSF is moving towards being an age-friendly health system and for this we need health professionals that work together in new, collaborative ways. The UCSF Program for Interprofessional Education (PIPE) is preparing our health professionals to meet these needs." A specially trained nurse practitioner or physician assistant coordinates the team approach in the AFED, creates summary documentation, and is present on-site 6-7 days a week from noon to 8 p.m. They are called GEDIs or Geriatric Emergency Department Implementors.
The AFED will provide interprofessional learning possibilities such as student rotations on the AFED team. Another educational goal is to create a geriatrics emergency medicine (GEM) fellowship to develop leadership in the ED for interfacing with all of the specialists and multiple health professionals who care for our older adults.  
Degesys is very excited at the opportunity to disseminate the work of the UCSF AFED to other parts of the country: "A GEM fellowship will not only provide fellowship-level geriatric knowledge and training to EM residency-trained physicians but will train future AFED medical directors who can then take our UCSF AFED model and apply it at other institutions, improving the care older patients receive in EDs across the country."