Becoming a UCSF interprofessional educator benefits from a constant desire to improve. There's an adjustment period as one transitions from teaching learners within one's own profession to becoming a facilitator for learners across a range of health professions -- and receiving feedback is intrinsic to professional development.
To engage newer interprofessional educators, the PIPE Interprofessional Teaching Observation Program provides support by pairing trained observers who conduct teaching observations with interested participants.
Josette Rivera, MD, led an interprofessional team to develop this program after recognizing that many faculty have had only limited if any exposure to interprofessional education during their own training, and that there was a need to build local capacity for facilitators. Rivera now co-leads the training of peer observers through interactive workshops offered several times a year, and also serves as a peer observer.
Rivera said, "Peer observers have expressed many ways in which they richly benefit from seeing how others teach. I hope that many more will participate and thereby create a community of interprofessional faculty who are learning with and from each other."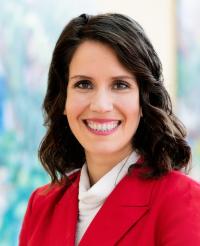 Bethany Geleris, CRNP, a current doctoral student in the UCSF Nursing Practice program and nurse practitioner in Pediatric Urology, was recently observed by a School of Medicine educator as she facilitated the Core Principles of Interprofessional Practice session on roles and responsibilities in January for a group of medical, nursing, pharmacy, dental, and physical therapy students. Before the session, Geleris and her observer met to discuss her goals and specific areas for feedback and the two conducted a debrief afterwards.
"As a doctoral student in nursing, I'm interested in growing as a leader, facilitator, and educator. I highly recommend taking advantage of this resource," said Geleris. Her observer provided helpful notes on her classroom management in the virtual world.
"It was beneficial to gain another educator's perspective on time management as well as awareness of my unique strengths. The feedback was personalized to my goals and areas of concern which gave me a rich opportunity to ensure I am constantly improving," Geleris reflected.
For Geleris, her training and clinical work have given her an informed perspective on interprofessional interactions. She hopes to continue use her interprofessional knowledge as she advances in her practice and becomes a prepared leader at UCSF with her doctorate in hand.
With our current Zoom environment, it's easier to conduct observations and valuable to provide another perspective, as all educators have had to make pedagogical changes and technological adjustments. Learn more on the PIPE website.